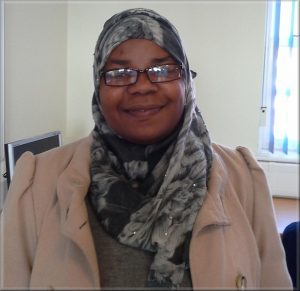 15/11/2016
I joined English classes because I want to learn how to speak English properly and be able to help my children with their school homework. In the future I would like to get a job in childcare.
At home I try to speak some English when I talk to my husband. When my husband speaks in English and doesn't use the correct English, I always try to correct him. When talking to my children at home I use my first home language, however if my children don't understand what I'm saying I'll tell them in English so they can. I also try and read my children's reading books with them to help me.
29/11/2016
On Saturday I went to Asda for my weekly food shopping and to buy a costume for my son. I approached a sales assistant and asked;
'Please, I'm looking for your costume'
He asked which one?
'Pirate costume, I searched it in internet and you have got some'
The sales assistant replied that the store does not always stock the same as what is on the internet. I understood his response and thanked him.
17/01/2017
In the holidays I logged onto learnmyway on the Internet. I went onto 'register GP online'.
I learnt if I move into a new area I should check what star rate they have and comments from customers before I register. I'm going to tell my GP I want to register online so I can keep updated on my medical report from home. I will then do it for all my family.
'I think if you can get this kind of chance then why not, very good to check yourself. I read about my current GP they don't have even 1 star, they are worst GP, I'm going to change now'.
31/01/2017
I used a website called 'BBC Skill wise' to practice my dictionary skills and found it very useful. It really helped me on how to use a dictionary properly.
07/02/2017
My 9 year old child is going to secondary school soon. So I have been searching on the internet looking for secondary schools. So I typed a school name in google that I have heard of. I read the comments to see how good it is, how many staff they have and if it is near me. This is giving me an idea of how the schools are and I can compare them to each other.
I also went to the library and got books for me and my children. I read a book to my children about fairy tales called 'The little red riding hood' We talked about the book and I gave them advice 'don't go woods yourself. When you go someone's house, knock, wait for them to open and ask you to go in, don't just go in'. I explained fairy tale is not real it's using your imagination.
09/03/2017
In my computer class and English class we have learnt how to use a dictionary. I went to the library in the school holidays. I got a dictionary out. I have been reading the words alphabetically and their meanings. 'I didn't realise 1 word can mean a lot of things, I've improved my vocabulary very well'.
I went to the GP and I asked 'can I register online' he gave me a form to fill in, which was very easy. I filled the form in and returned it. I'm still waiting for a reply.
During the holidays I went for a walk with my children on Alum Rock Road. We looked at all the different shops and their names and which side of the road they were on. This is so we can ask or give directions to anyone and be familiar of where we are talking about.
04/04/2017
Last week my son wasn't well. I took him to the doctors, the doctor said he had chicken pox. The doctor prescribed him with a syrup and lotion to apply on his spots. When I got the medication I read the instructions that was with it and it said to give the syrup once a day and apply the lotion twice a day. I also asked the doctor if he can go school or not as he did not say anything. The doctor told me when the spots go down he can go back. I feel happy that I can now speak and understand to the doctor. I can read basic instructions to help my child.
06/06/2017
Before the half term holidays I met a mum at the school playground. We started talking, she was asking me about my little one if he is walking. I said, 'his barley started walking' she said she also has a little one and he walked at 10 months. I said, 'I'm from Africa and mostly before my kids walk before they turn 1 year.' She told me it depends on the country you are from, I asked 'why do you say that?' She said she is from Pakistan and the weather is good there which may make them do things quicker. I said 'Well it might be true, but the houses are too close, too small so they won't have the freedom they need. So she said that might be true
We carried on talking about Adderley Children's Centre, she told me her children go there and it's a good centre. It's nice to see other people appreciate it too.
27/06/2017
On Sunday I celebrated Eid with my family and friends. My family and I went to Mohammed Masjid to do our Eid salat. After prayer we did Eid greetings with everyone there. We then went to see our family. When we got home we had friends over for dinner, I cooked rice and stew. After dinner the children went to play in the park near my house and all the adults talked and chatted.
11/07/2017
Last week I sat my Entry Level 2 Exam. For the speaking part we had 2 sections, the group speaking where we were looking for jobs. I said, 'I also looking for a job' 'what do you think I should do?' someone said I can call or I can write an email and ask the manager if I can apply for the job. I said, ' I would like to go in person, I can ask for manager then we can see and talk to each other.' With email he hasn't seen me in person.
My one to one speaking exam was about going for a job interview. The manager asked me why I think I am the best candidate for the job. I said, 'I have work in mobile shop before, I can interact with people. I can work with the till, I am punctual and I am loyal. They asked me if I want the customer service job or the sales job, I said, 'I want the sales job, I am available any time.'
For me I think it went ok. I am still very curious how it all went
November 2017
Latifa passed her Entry level 2 Exam during the summer. She is now doing Entry Level 3 and alongside attending the speaking class. Latifa feels she has come a long way she said, 'I couldn't be happier how things are going for me.' 'I have improved in my reading, writing and speaking' She has also started a beauty course, where she practices speaking to other students in English.
With understanding content, Latifa has found, if she takes her time to read things thoroughly, she can understand better. Her future aim, she describes as 'to get everything right'
Her objective this year is to achieve her Entry Level 3 certificate and then start a Childcare or Health and Social Care course.