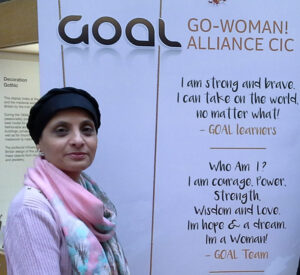 Yasmin Akhtar (sfedi accredited in 2009) is a founder of Go-Woman!, an organisation set up in 2006 to focus on providing "real" business support for women.
Yasmin Akhtar was also Chief Executive of The Asian-e Foundation, a not for profit making organisation, focused on working at grass root level to deliver frameworks which address social exclusion and increase innovation amongst minority ethnic communities,
Yasmin was instrumental in developing the Foundation's flagship programme, the 'Women in Enterprise' framework in 2003. This was delivered across London (funded by the London Development Agency) and Bradford (funded by West Yorkshire Learning and Skills Council). The framework specifically addressed issues concerning women particularly from South Asian community to start up and grow their businesses. The framework was awarded the PROWESS Innovator award in 2004.
Yasmin was also involved in developing the Young Entrepreneurs Framework, which was aimed at young girl's aged 11 to 16 to stimulate enterprise which was born out of the evaluation of the 18 month long project. The framework was selected as one of the six studies to showcase in front of EU Ministers during the UK's term of hosting the EU presidency in 2005.
Yasmin held directorship at Asian-e Limited, which was set up to predominately look at providing business advice and support. The portfolio included a range of services from Business Process Management Consultancy through to Training and IT solutions.
Yasmin was involved in delivering a project under the 'Transformation Fund' scheme, in conjunction with the local children's centre. The evaluation of the project highlighted the need to support women with speaking skills to help them move into mainstream provision.
Go-Woman! Ltd was set up in 2006 as a result of a comparative study looking at enterprise culture in Scotland, Wales, England and Stuttgart, Germany. Discovering that many women find traditional business support awe inspiring, overcomplicated and often dismissive of micro enterprises and having realised their ambitions later in life to become self employed they set up Go-Woman! Ltd, with a sole purpose of providing inspiration and support to ordinary women to become "extraordinary"; breakout of their comfort zone and help them access advice and further support to realise their ambition to "do it their way".
Yasmin was involved in delivering a project under the 'Transformation Fund' scheme, in conjunction with the local children's centre. The evaluation of the project highlighted the need to support women with speaking skills to help them move into mainstream provision.
As a result, 'Reading Ladies' initiative was launched to provide women with a platform to read and discuss books to help increase confidence and speaking skills.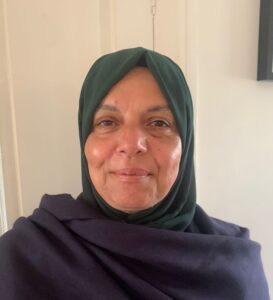 Khadija Mehrban is an experienced housing professional. She left Shelter in September 2012 to pursue studies. She is presently a full time student at BCU, studying for a diploma in operating department practice at Birmingham City University.
Khadija has an impressive career history which includes, a director of HOOPS, charity helping older people live independently in the community based in small heath. Khadijah is also a committee member for BEWAL international hospital – as part of their fund raising team in Birmingham.
She was a school governor for 4 years at Adderley Primary school.
She has also been an entrepreneur; setting up and managing a franchise.
She has been involved in implementing and delivering a training programme for Housing Department on Homelessness legislation and domestic violence.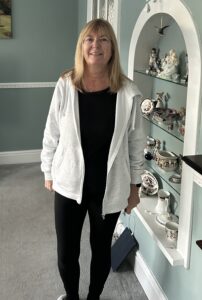 Jackie White
Background Information
My relationship with Go-Woman! Alliance started when I became head teacher at Adderley Children's Centre in 2008. Yasmin Akhtar was Chair of governors. Yasmin's enthusiasm and creativity and her passion for engaging adults in their own learning was infectious. I immediately found my own interests and experiences aligned with those of GOAL.
I trained as a nursery and primary school teacher in 1976.  Although my own career was predominantly in early years including working in nursery schools, primary schools and an integrated centre. I was always interested in support and education for the whole family. Experience has taught me that successful learning for the child is very much interwoven with how their parent feels about their own well-being, self worth, motivation and aspirations.
In 1985 I ran workshops 'the Highs and lows of parenthood'. These gave me an insight to how the parent maybe feeling. Parents often were faced with poor housing, poverty, low self esteem, abuse, drug / alcohol dependency etc. Inevitably these challenges impacted on their relationships and in particular with their young children. The participants were encourages as part of a group  to identify and offer ways to support and empower each other.
I was excited to take up the position at Deputy Head at Hillfields Early Years Centre (1994 until 2001) Our innovative work in family support and adult education led to the development of a  comprehensive programme for parents and carers. The integrated  work of the centre was recognised as being an excellent model of practice and was awarded one of the first Excellent Centres. This award enabled us to showcase our work to  other settings across the  country.
At Adderley (also a designated Early Excellence Centre and designated Children's  Centre) our Family Support team along with Yasmin's creativity and ingenuity developed many ways to not only support the families but also extend the adults own learning. This work continues today.
About Me
I am a mother to 4 girls and grandmother to 9 grandchildren. I have retired from my long and enjoyable teaching career. In addition to my role as trustee for GOAL I am a Governor for the Birmingham Federation for Maintained Nursery Schools since 2020. I am also a governor and vice chair at  St. Saviours J& I CE School.

Dr Mohammed Yasin – coming soon…